By
LJ E
New Year delayed by one second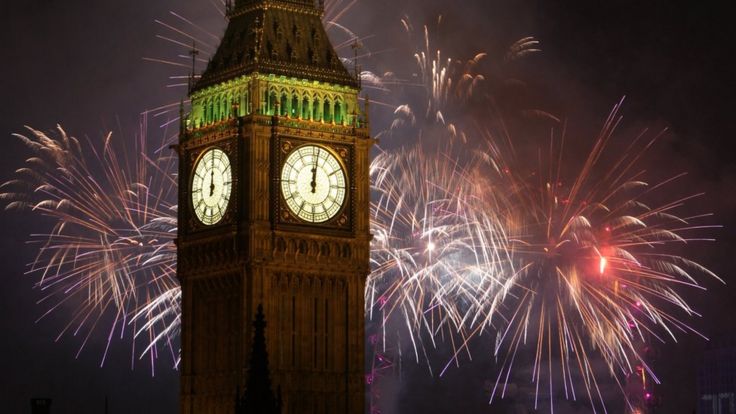 GETTY IMAGES
A "leap second" will be added to this year's New Year's countdown to compensate for a slowdown in the Earth's rotation.
The extra second will occur as clocks strike midnight and a time of 23:59:60 will be recorded, delaying 2017 momentarily.
A leap second last occurred in June 2015 and this will be the 27th time it has occurred.
The change is required because standard time lags behind atomic clocks.
The National Physical Laboratory (NPL) - responsible for the UK's national time scale - uses the atomic clock to provide a stable and continuous timescale.
Along with other clocks across the globe, it provides the world with its coordinated universal time.
NPL senior research scientist Peter Whibberley said: "Atomic clocks are more than a million times better at keeping time than the rotation of the Earth, which fluctuates unpredictably.
"Leap seconds are needed to prevent civil time drifting away from Earth time.
"Although the drift is small - taking around 1,000 years to accumulate a one-hour difference - if not corrected it would eventually result in clocks showing midday before sunrise."
Atomic clocks use ultraviolet signals emitted in the change of electron energy levels to tell the time.
The time created by the clocks is used in GPS location devices and is used to control the wave frequency of television broadcasts.
The International Earth Rotation and Reference Systems Service in France tracks the Earth's rotation and announces the need for a leap second.
By
LJ E
Hygiene - vital precautions
2 November 2009
Taking care of your feeders, bird table and birdbath will reduce the chances of spreading diseases
Image: RSPB online shop
When a large number of birds are attracted into an area to feed, the danger of disease increases. Prevention is always better than a cure, and is the best thing you can do to help the birds.
Most diseases are transmitted by droppings. If contaminated droppings mix with food, the birds run a risk of picking up the infection. Since the contamination can originate either from other birds or from animals (such as rats), it's important to guard against infection from both sources in your garden.
Top tips for keeping your garden birds healthy
Good hygiene is particularly important during the summer months. The warmer weather can make food go off quicker, and can provide ideal conditions for harmful bacteria.
Monitor your food supply carefully. If the food takes days to clear, reduce the amount of food you're offering.
Use a birdtable or hanging feeders. A ground feeding tray is preferable to putting food directly on the ground because it 's easier to keep clean. Food on the ground should all be eaten before nightfall. Rats are attracted to leftover food and often carry diseases, which can affect birds or humans.
Keep your bird tables and surrounding areas clean and free from droppings or mouldy food, which can provide breeding grounds for parasites and bacteria. If large amounts of droppings have accumulated, they should be cleared and burnt and the ground cleansed with a disinfectant.
Clean and wash your bird table and hanging feeders regularly (ideally, using a 5% disinfectant solution), and move feeding stations to a new area every month to prevent droppings accumulating underneath.
Water containers should be rinsed out daily, especially during the warmer months, and allowed to dry out before fresh water is added. Droppings can accumulate in bird baths.
Personal hygiene is also important. Don't bring your feeders into your house to clean them - do it outside, using separate utensils. Wear gloves when cleaning feeders and bird tables, and particularly if you need to handle a sick or a dead bird in your garden. Always wash your hands when you've finished.
By
phillip J W
...May I wish everyone here a very happy Christmas from up here on the bank of the River Tyne.
XXX
By
LJ E
Merry Christmas
Hello to you at DropBy
Greetings one and all
Some may know me from the past
Others not at all
Perhaps you thought I'd gone away
To pastures green and new
And left you to enjoy your pics
For everyone to view
But I thought I'd just DropBy
And take a little peek
At all the lovely photographs
Displayed for all, this week
I really like Phyl's pictures
'All creatures great and small'
I like them oh so very much
I stole them one and all
Bill has also published some
From days gone by it seems
Of babies shaving, healthy fags
And miracle face creams
Mary will be calling in
Her 'Tech Team' at the double
But they know I've 'previous'
For causing them such trouble
However 'tis the season
Of 'Goodwill to All Men'
I'll let you keep your pics…for now
But will return again!
Love Gertie xx
By
Bill W
I'll make it clear right now, I'm no connoisseur of cheese. There are lots that I like, some more than others, and there are some I detest. Tonight, at the pub, I was given a packet of cheese as a gift. Instead of waiting till tomorrow to try it, I have just opened it, and it is the most deliscious cheese I have ever tasted. It is a creamy Mature Cheddar, and made in Garstang, Lancashire. I've had other types of cheese from this cheese-maker and they are all top quality, but this one is outstanding.
Do you have a favourite cheese?
By
Jackie H
The Train Of Life....
Life is like a journey on a train, with its stations, with changes of routes, and their accidents!
At birth we boarded the train and met our parents, and we believe they will always travel on our side. However, at some station our parents will step down from the train, leaving us on this journey alone.

As time goes by, other people will board the train; and they will be significant i.e. our siblings, friends, children, and even the love of your life. Many will step down and leave a permanent vacuum. Others will go so unnoticed that we don't realize they vacated their seats.

This train ride will be full of joy, sorrow, fantasy, expectations, hellos, goodbyes, and farewells.Success consists of having a good relationship with all passengers requiring that we give the best of ourselves.

The mystery to everyone is: We do not know at which station we ourselves will step down.

So, we must live in the best way, love, forgive, and offer the best of who we are. It is important to do this because when the time comes for us to step down and leave our seat empty, we should leave behind beautiful memories for those who will continue to travel on the train of life.

I wish you a joyful journey on the train of life. Reap success and give lots of love. More importantly, thank God for the journey.
Lastly, I thank you for being one of the passengers on my train.

~ Author Unknown...
By
Maureen J
Having decided that at eighty, a house move must be tackled sooner rather than later, and with my house on the market, I have embarked upon the essential de-cluttering that downsizing means. The first stage of clearing shelves of files containing news, views and events that took me on the campaigning trail sixteen years ago has been under way for a few weeks and large spaces are now appearing.
The amount of paperwork has been staggering. A great advocate of filing and keeping records, I now realise this is a two-edged sword that is proving hugely time consuming. I was prudent to tackle it now, rather than wait for a buyer to happen along. Who could have foreseen that getting angry over other people's problems would result in shelves crammed with so many black lever-arch files that once emptied, would pose the question, '...what do I do with the remains?
The immediate problem was solved after making some local inquiries; the files and their hundreds of multi-punched plastic pockets found good homes, but then the contents of those plastic pockets needed attention; many contained sensitive material so caution was needed before disposal. This meant looking through and reading everything so nothing confidential could fall into the wrong hands.
Now that doesn't sound too onerous, and though the reading has been superficial, the content has raised many ghosts. I have been hag-ridden by the spectres of those who have had to live with the consequences of the injustices dealt them by circumstances and life in general.
Some of the cases were won by our little group, others we lost. One case took two years before the local health board issued a written apology for the neglect that caused the death of a family's elderly father. Letters to the minister at the Welsh Assembly, the health Ombudsman, the chair of the local health board had all come back disclaiming responsibility and making excuses as to why they could not be involved in an individual case - but after a public enquiry had found in favour of the plaintiff – all capitulated and an apology was issued.
The prolonged pain and stress of that family would have been so much less had the apology been issued by the hospital in the first place. Just saying "Sorry – we'll make sure this never happens again" would have sufficed.
Looking through my notes has made me realise that a simple apology on the part of the official body concerned could have saved so much pain for the victims in most of the cases. Why are the words, 'I'm sorry' so difficult to say?