By
LJ E
RSPB THE BIG GARDEN BIRDWATCH 28-30 Jan 2017
Joining in with Big Garden Birdwatch is simple and enjoyable - and a great excuse to watch your garden birds.
Here's our step-by-step guide...
Choose a good place

to watch from for an hour from

28-30 January

. Which window gives you the best view? Make sure it's comfy and you have the essentials within easy reach - a nice, hot drink and your favourite biscuits - and somewhere to jot down what you see. On the website we've got a nifty counting tool to help you keep track of what you've seen.

If you haven't got a garden that's no problem. Just pop down to your local park or green space and join in there.

Relax

and watch the birds for an hour. If anyone disturbs you, you can tell them you're busy being a scientist!

Count the

maximum

number of each species you see at any one time. For example, if you see a group of three house sparrows together, and later another two, and after that another one, the number to submit is

three

. That way, it's less likely you'll double-count the same birds.
Come back to the Big Garden Birdwatch website and tell us what you've seen. Or use a paper form, available to download here. It's FREE to post back to us.
That's it! By taking part and telling us what you see, you'll become an RSPB citizen scientist and help us find out more about garden wildlife - so take a big pat on the back from us.
By
LJ E
Ten facts about the Feast of the Epiphany
1.The three Kings (Melchior, Caspar and Balthazar) represented Europe, Arabia and Africa respectively.
2.Hundreds of years ago, roast lamb was traditionally served at Epiphany in honour of Christ and the three Kings' visit.
3.Whoever finds the small statue of a baby Jesus hidden inside their slice of the Rosca de reyes throws a party on Candlemas in February.
4.In some European countries, children leave their shoes out the night before to be filled with gifts, while others leave straw for the three Kings' horses.
5.According to Greek Orthodox Church's traditions, a priest will bless the waters by throwing a cross into it as worshippers try to retrieve it.
6.In Bulgaria too, Eastern Orthodox priests throw a cross in the sea and the men dive in - competing to get to it first.
7.In Venice a traditional regatta that started as a joke in the late 1970s has been incorporated in the celebrations of Epiphany Day.
8.In Prague, there is a traditional Three Kings swim to commemorate Epiphany Day at the Vltava River.
9.In New York, El Museo del Barrio has celebrated and promoted the Three Kings' Day tradition with an annual parade for more than three decades. Thousands take part in the procession featuring camels, colorful puppets and floats.
10.The day's activities involve singing holiday carols called aguinaldos.
Epiphany also means.....'A moment of sudden great revelation or realisation'.
By
LJ E
I have just read this article on the BBC news site.....
Shall we get the tandem out again Phyl?!
French cyclist Robert Marchand sets
new record aged 105
AP
He may not be the fastest cyclist round a velodrome, but he is easily one of the oldest.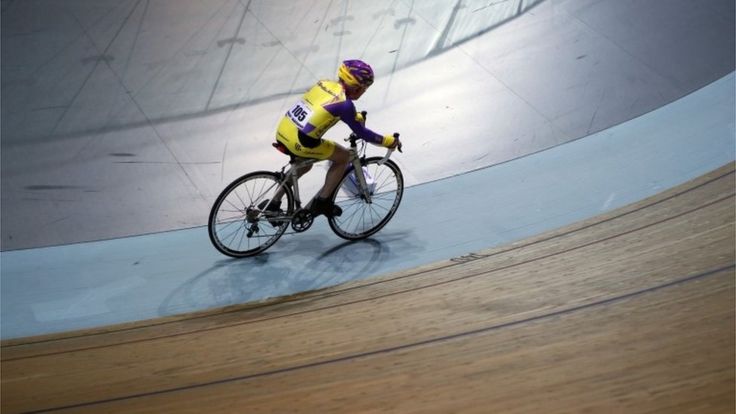 Robert Marchand has clocked up 105 years and now a new record for the furthest distance cycled in one hour.
The French cyclist managed 22.547km (14 miles) at the national velodrome, t
aking the top spot in a new category - for riders over 105.
Mr Marchand already holds the record for those aged over 100 - 26.927km - set in 2012.
He "could have done better", he says, but missed a sign showing 10 minutes to go.
"My legs didn't hurt," he told BFMTV. "My arms hurt but that's because of rheumatism."
To be fair, he had admitted before the event at the Saint-Quentin-en-Yvelines velodrome
near Paris that breaking his previous hour record would be tough.
"I'm not in such good shape as I was a couple of years back," he told AFP news agency.
"I am not here to be champion. I am here to prove that at 105 years old you can still ride a bike," he said.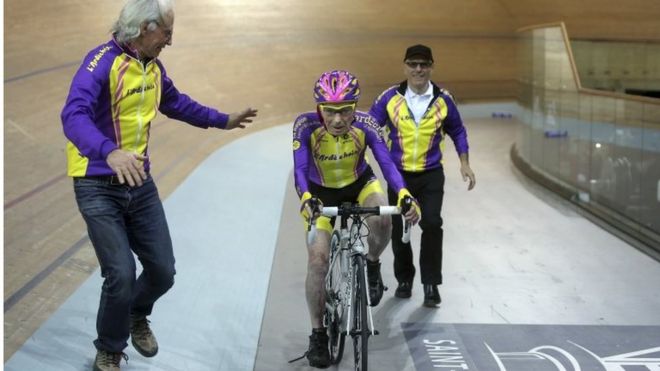 AP
Hundreds of spectators cheered him on trackside.
Born on 26 November 1911, Mr Marchand puts his fitness down to diet - lots of fruit and vegetables, a little meat, not too much coffee - and an hour a day on the cycling home-trainer.
A prisoner of war in World War Two, he went on to work as a lorry driver and sugarcane planter in Venezuela, and a lumberjack in Canada.
No stranger to sport outside cycling, he competed in gymnastics at national level and has been a boxer.
The current men's hour record is held by the UK's Bradley Wiggins - 54.526km - which he set in June 2015.
By
phillip J W
Well hallo all !
I've probably not ventured along here in quite a while, sorry.
...What with one thing & another I've been kind-of busy, in a day-dreaming-retired-person kind of way
but this morning I thought, being as how it is early January, I ought to mention how the sun crawls desperately low behind the trees up the bank [I don't expect it to rise above the roofs of the Front St shops today] - & yet it is a warm encouraging sunshine.
This neck of my particular woods isn't everyone's cup of tea, but I have taken it up as Home.
It's how I go forward this year.
I hope your year is happy.
By
LJ E
China - The World's Largest Ivory Market - Bans All Ivory Trading And Processing
December 31, 2016
On Friday, China's State Council announced a ban on all ivory trading and processing activities.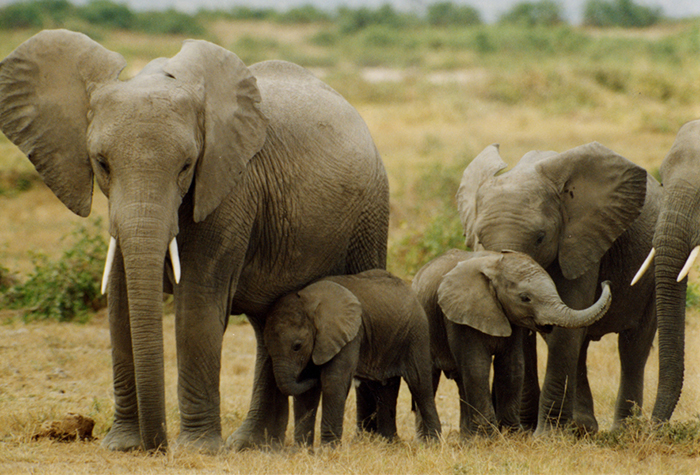 Credit: Wildlife Aid
China is currently the biggest ivory market in the world - about 70% of the world's trade ends up there.
Conservation group WWF welcomed the latest news, calling it a "historic announcement... signalling an end to the world's primary legal ivory market and a major boost to international efforts to tackle the elephant poaching crisis in Africa".
The commercial processing and sale of ivory will stop by March 31, and all registered traders will then be phased out, bringing a full halt to the market by the end of 2017.